Get registered to attend one of the 2022 Crop Pest Management Schools. This year, two schools will be offered in the traditional, in-person format on November 30 in Beloit and December 1 in Grainfield.
Each school will start at 7:50 am with registration and conclude at 5:00 pm. A lunch will be provided to all participants. The cost to attend either of the events is $50 if registered by November 22. After November 22 and at the door, the cost will be $75. Please register at northwest.k-state.edu/events/
Each school will feature a variety of topics on weed control, insects, and diseases. The agenda for both locations, with speakers and topics, is detailed below.
The dates and locations of each school are:
November 30 –Beloit, KS
Beloit First United Methodist Church
801 N. Bell St.
Beloit, KS 67420
December 1 – Grainfield, KS
St. Agnes Catholic Church
242 Cedar St.
Grainfield, KS 67737

Agenda for each school
7:50 Registration
8:15 Weather Influences on Herbicide Applications - Chip Redmond, K-State Asst Climatologist and Mesonet Manager
9:10 Research Update & Discussion on Utilizing Cover Crops & Pre-Emergence Herbicides - Vipan Kumar, K-State Weed Scientist at Hays
10:05 Break
10:20 Stalk rots, Ear rots, and Other Dry Weather Row Crop Diseases - Rodrigo Onofre, K-State Row Crop Pathologist
11:15 Herbicide resistance, mechanisms and alternative weed control technologies - Michael Walsh, University of Sydney (Australia) Weed Scientist
12:10 Lunch
12:50 Getting the most effective herbicide applications in dry conditions - Sarah Lancaster, K-State Extension Weed Scientist
1:45 Insect pests that we should be on the lookout for in central and western Kansas - Anthony Zukoff, K-State Entomologist
2:40 Break
2:55 Lookalikes – Is this herbicide damage or another pest problem? - Jeanne Falk Jones, K-State Multi-County Agronomist, Craig Dinkle, K-State Crop Production Agent, Sandra Wick, K-State Crop Production Agent
3:50 Kansas Regulations (Core Hour) with KDA Representative
4:45 Questions
5:00 Adjourn

Continuing Education Credits have been applied for and include:
1A Commercial Applicators: 7 credits and 1 core hour
Certified Crop Advisor: 8 pest management credits
For questions, please contact the Northwest Area Research and Extension office at 785-462-6281 or email Jeanne Falk Jones at jfalkjones@ksu.edu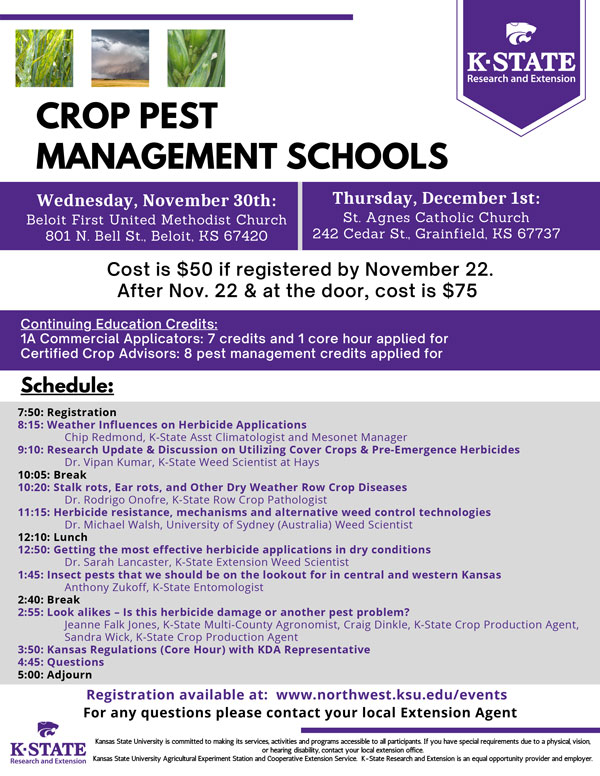 Tags: Crop Pest Schools