Wheat Rx seminars are scheduled for February 8 in Wichita and on February 9 in Hays. Wheat Rx is partnership between Kansas Wheat and K-State Research and Extension to disseminate the latest research recommendations for high-yielding and high-quality wheat to Kansas wheat farmers.
These two Wheat Rx schools will have speakers that will discuss the most up-to-date wheat research information on how to manage your wheat crop not only for yield but also for quality and sustainability.
Registration for the event is $100 for non-members of the Kansas Association of Wheat Growers. However, members (including new members) will receive one free registration. Lunch and meeting materials are included with the registration fee.
Register online at https://kswheat.com/wheat-rx-registration-page

February 8, 2020 – Wichita, KS
Location: DoubleTree by Hilton
2098 Airport Road
9:00 am to 3:00 pm

February 9, 2020 – Hays, KS
Location: Memorial Union Ballroom
Ft. Hays State University
700 College Drive

Agenda
8:00 – 9:00 am Registration
9:00 am Welcome and Introduction to Wheat Rx
Aaron Harries, Kansas Wheat
9:15 am Capturing Value for High-Quality Wheat
E.G. Herl, Grain Craft
10:05 am Break
10:20 am Proper Fertility to Maximize Yield and Quality
11:10 am Fungicides and Wheat Health
Kelsey Andersen Onofre, K-State
Noon Lunch
1:00 pm Intensive Wheat Management
Romulo Lollato, K-State
1:50 pm Beyond Grain: Value of Wheat in the Production Chain
Aaron Harries
2:40 pm Question and Answer Panel
3:00 pm Adjourn
Romulo Lollato, Wheat and Forages Specialist
lollato@ksu.edu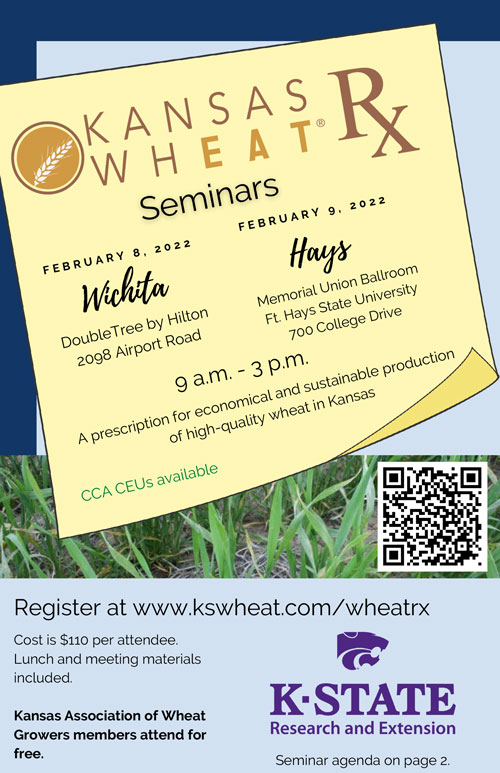 Tags: wheat curl mite meeting Wheat Rx