Extension Agronomy
Spring 2022 Wildfire Outlook for Kansas - Be prepared!
Spring is a time where prescribed burning is common in Kansas. It is also peak wildfire season across the state. This article will look at pre-existing conditions, the forecast, and give thoughts on fire season potential. Unfortunately, conditions favor an active spring for wildfires. This article will provide some proactive measures to be sure you are prepared.
A companion article in this eUpdate issue will discuss ways to have a safe and successful prescribed burn. If you are planning any burns this spring, be sure to read both articles.
Timely moisture
Before looking at this year's concerns - we have to assess the grass crop across the state. Grasses need ideal conditions to grow well. That means they need conditions that aren't overly wet or dry, with efficient solar insulation combined with timely precipitation.
Last growing season, many areas of the state flirted with drought. This resulted in timely precipitation across much of Kansas. Mid-summer drought defined where longer periods of dry conditions persisted and grasses potentially progressed slower.
Through a combination of tools and ground truthing, we estimate that the fuel loading is above normal in the northeast and areas just outside of the northwest (Figure 1). Other areas, especially along the Oklahoma border, central Kansas, and in the northwest saw less grass growth due to persistent dry conditions. That doesn't mean there is less likelihood of a fire, just that the overall loading from last year is less than what one would expect for the area.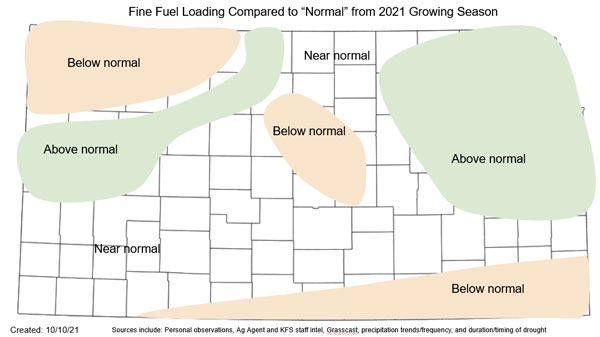 Figure 1. Estimated fuel loading compared to normal across Kansas. Source: Kansas Forest Service and Kansas Weather Data Library.
A very dry winter
Kansas fire season peaks in March and April. This is the period when warmer temperatures begin to rebound northward into the region with dormant grasses across the landscape. In addition, frontal passages and strong storm systems with associated winds can move fire quickly.
These conditions are exacerbated by prolonged dry conditions this year. The November 2021 through February 2022 period was the fourth driest on record in the last 128 years. The third driest was 2017, the year that featured the Starbuck and numerous other large fires in Kansas. Abnormally dry conditions or drought now cover the entire state. Long term dryness allows fires to move more efficiently through timbered areas, typically good places to stop wildfires. In addition, fire tends to burn more aggressively with increased "spotting" or embers falling ahead of it. Fires are typically much harder to suppress as a result and can grow more quickly.
Despite some recent moisture in the east, all of Kansas has observed below-normal precipitation (Figure 2) and fire potential is significantly increased. This is a very disturbing situation going into our peak fire season.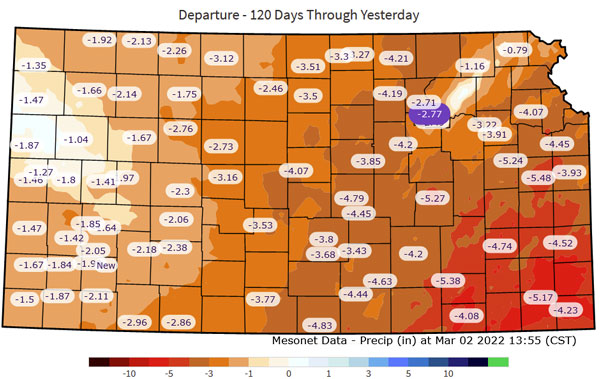 Figure 2. The 120-day departure from normal (October 28, 2021 - March 2, 2022) at Kansas Mesonet (mesonet.ksu.edu/precip/daily) stations with gridded background data from the National Weather Service (weather.gov/water).
The forecast
Recall back to 2017, when Kansas was similarly dry over the winter. La Niña also dominated the winter, then transitioned to neutral in the spring. This year, we are also in La Niña with similarly forecasted conditions.
Winter conditions over the last few months followed a textbook La Niña pattern. Wet conditions persisted in the Ohio Valley with warmer/drier conditions across the southern Plains westward into the southwestern US. The active Ohio Valley pattern typically begins to shift westward with time as La Niña diminishes in spring. The frequency in storm systems will often increase in the Central Plains but unfortunately shunt beneficial precipitation east into Missouri. Therefore, western Kansas is usually favored with drier-than-normal conditions. To make matters worse, these storms are often accompanied with strong winds. These are ideal conditions to grow large fires in Kansas.
March is beginning on a very, very warm and dry note. This has only increased fire concerns across the region. In addition, an active first weekend will provide critical-to-extreme conditions conducive to fire. The second week of March appears to be much cooler and quiet, albeit still mostly dry. Forecast models agree that a return to warm, dry, and windy conditions will occur after mid-month. In addition, it is likely this volatile pattern will continue into May. As a result, the National Interagency Fire Center Predictive Services is predicting an increased potential for large fire occurrences (Figure 3) for all of Kansas for March and April (far southwest Kansas in May too, not pictured).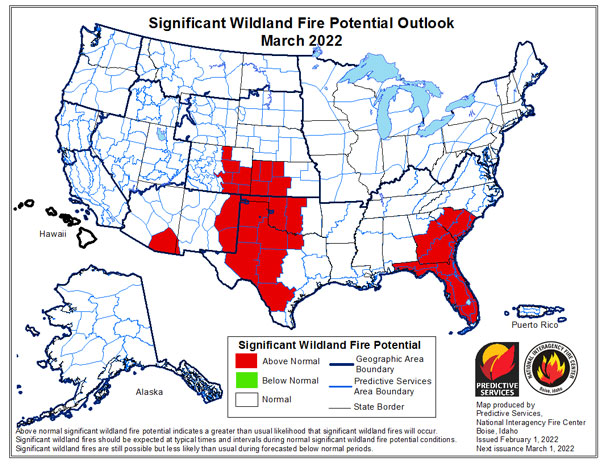 Figure 3. Significant wildland fire potential outlook from National Interagency Fire Center Predictive Services (https://www.predictiveservices.nifc.gov/outlooks).
Planning ahead is key
This fire season can seem quite daunting. Fire behavior thus far in 2022 has been described as "unlike anything they have seen before" under mild conditions. We are urging everyone to be prepared! Here are a few hints at being proactive and prepared before a fire ever starts.
Have a plan: where do you go, what is your communication plan to notify friends/family.
Have a go bag: prepare any medication, extra clothes, chargers and valuables into a quick take package should you be evacuated (works good for taking shelter in a storm too).
Prepare your home in advance: remove leaves from gutters, remove flammable items in close proximity, make sure windows/screens/doors seal properly (more information on FireWise: https://tinyurl.com/42tpc68k).
Mow fire breaks in areas of tall grass.
Christopher "Chip" Redmond - Kansas Mesonet
christopherredmond@ksu.edu
Walt Fick, Rangeland Management Specialist
whfick@ksu.edu
Eric Ward, Kansas Forest Service
eward@ksu.edu