Growing Crops in Volatile Conditions will be the focus of a crop school sponsored by K-State Research and Extension - Pottawatomie County on Wednesday, March 8, 2023, from 1:30 pm – 7:00 pm, at the First Presbyterian Church, 601 Elm St, Wamego.
Presentations will include:
Weed Management in 2023 - Sarah Lancaster, K-State Extension Weeds Specialist
Tar Spot of Corn: A New Threat to Kansas Corn - Rodrigo Onofre, K-State Extension Row Crops Pathologist
Mesonet Decision Tools and Climate Outlook - Chip Redmond, K-State Mesonet Manager
Best Management Practices for Reducing Phosphorus Loss - Nathan Nelson, K-State Soil Fertility professor
Crop Inputs and Budget Tools - Gregg Ibendahl, K-State Extension Crop Ag Economist
New Nitrogen Soil Test Recommendations for Corn - Shannon Blocker, Pottawatomie County Agriculture and Natural Resources Extension Agent
The first three presentations are each eligible for one hour of continuing education credit in 1A for commercial pesticide applicators.
A meal is sponsored by Ag Partners Cooperative, J.B. Pearl, and Prairieland Partners. Please register by March 3, 2023, online at www.pottawatomie.ksu.edu by clicking the registration link. You may also call the Pottawatomie County Extension Office at 785-457-3319.
K-State Research and Extension is an equal opportunity provider and employer. Kansas State University is committed to making its services, activities and programs accessible to all participants. If you have special requirements due to a physical, vision or hearing disability, please contact Shannon Blocker at 785-457-3319 by March 3, 2023. US Department of Agriculture is an equal opportunity provider and employer.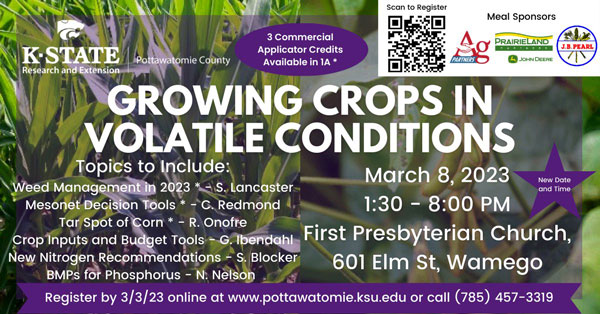 Tags: meeting crop school